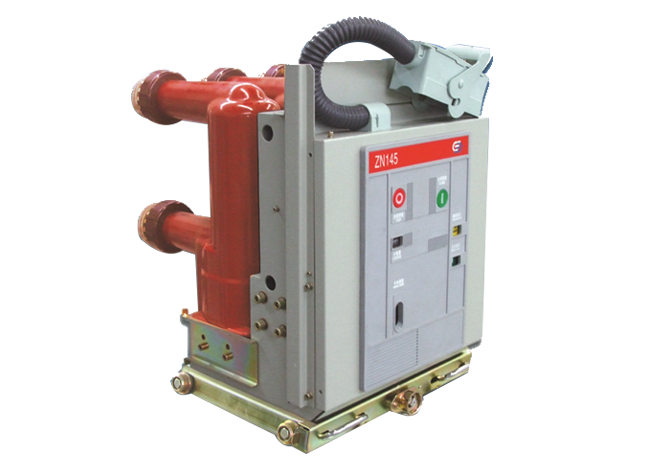 ZN145 circuit breaker
ZN145 series outdoor high voltage AC vacuum circuit breaker (hereinafter referred to as the ZN145 of vacuum circuit breaker) is by our company independently developed developed the latest generation of 12kV vacuum circuit breaker. ZN145 vacuum circuit breaker pole column is arc chamber and a main electric loop casting by epoxy resin, forming the overall solid sealed pole low resistance miniature interrupters. Make the circuit breaker insulation more reliable. For the large current circuit breaker, the convection ventilation technology is adopted, which is combined with the low resistance vacuum arc extinguishing chamber, which greatly reduces the temperature rise of the vacuum circuit breaker in the long-term operation, and reduces the loss of the electric energy.
ZN145 of vacuum circuit breaker is three-phase AC 50Hz, rated voltage of 12kV indoor switchgear for switching between a variety of different kinds of load current and frequent operation of places, including the closing and breaking short circuit current, the product can be widely used in power plant, substation and industrial and mining enterprises of electrical equipment control and protection.
ZN145 vacuum circuit breaker can be equipped with KYN28 series, KYN92A series switch cabinet.
Products in accordance with national standards required to complete the full form of the test, the performance reached the level of M2-E2-C2.
ZN145 vacuum circuit breaker to obtain a patent for invention.
Patent No.: ZL 200810012412.1
资质证书
Product description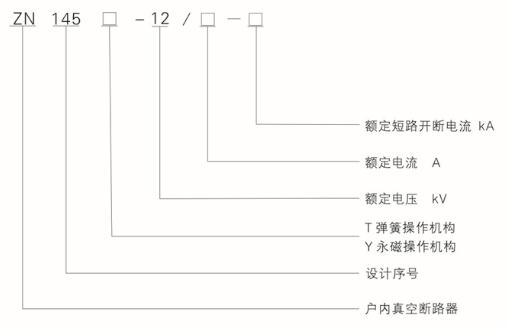 ZN145 series outdoor high voltage AC vacuum circuit breaker (hereinafter referred to as the ZN145 of vacuum circuit breaker) is by our company independently developed developed the latest generation of 12kV vacuum circuit breaker. ZN145 vacuum circuit breaker pole column is arc chamber and a main electric loop casting by epoxy resin, forming the overall solid sealed pole low resistance miniature interrupters. Make the circuit breaker insulation more reliable. For the large current circuit breaker, the convection ventilation technology is adopted, which is combined with the low resistance vacuum arc extinguishing chamber, which greatly reduces the temperature rise of the vacuum circuit breaker in the long-term operation, and reduces the loss of the electric energy.
ZN145 of vacuum circuit breaker is three-phase AC 50Hz, rated voltage of 12kV indoor switchgear for switching between a variety of different kinds of load current and frequent operation of places, including the closing and breaking short circuit current, the product can be widely used in power plant, substation and industrial and mining enterprises of electrical equipment control and protection.
ZN145 vacuum circuit breaker can be equipped with KYN28 series, KYN92A series switch cabinet.
Products in accordance with national standards required to complete the full form of the test, the performance reached the level of M2-E2-C2.
ZN145 vacuum circuit breaker to obtain a patent for invention.
Patent No.: ZL 200810012412.1
technical parameter
Serial number
project
parameter
1
Rated voltage Ur [kV]
12
2
Rated frequency fr [HZ]
50/60
3
Rated insulation level
Rated short time power frequency withstand voltage Ud (1min) [kV]
42
Rated lightning impulse withstand voltage Up [kV]
75
4
Rated current Ir [A]
630
1250
1600
2000
2500
3150
4000
5
Rated short circuit breaking current Isc [KA]
20
25
31.5
20
25
31.5

25
31.5
40


31.5
40


31.5
40


31.5
40


31.5
40
6
Rated short-time withstand current (4S) IK [KA]
20
25
31.5
20
25
31.5

25
31.5
40


31.5
40


31.5
40


31.5
40


31.5
40
7
Rated peak withstand current Ip [KA]
50
63
80
50
63
80

63
80
100


80
100


80
100


80
100


80
100
8
Rated operation sequence
O-0.3s-CO-180s-CO
Isc≤40KA
9
Rated capacitor set off current [A]
400、630
10
Rated capacitor group close current [KA] [HZ] []
20
11
Mechanical life time
≥20000
业绩展示