/ Company Profile
Speeding Shenyang Electrical Equipment Co., Ltd. (hereinafter referred to Shenyang speeding), Registered September 21, 2004, the registered capital of 50 million yuan, the plant covers an area of 53,000 square meters, the plant office building area of 50,000 square meters, the company construction of a research and development center, integrated office centers, electrical components, machining centers, medium voltage circuit breakers intelligent production centers, small manufacturing centers medium voltage, rail transportation research and development and manufacturing of DC and low-voltage industrial power centers, one of the emerging industrial park. Type of business for private enterprises, companies mainly engaged in power voltage switchgear, intelligent substation equipment, such as R & D and manufacturing services, power engineering undertaking the installation and repair, bearing test business.
Shenyang speeding existing staff of 330 people, including engineers and technicians 158 people (accounting for 47.9%), senior engineering and technical personnel 28 people (accounting for 8.5%), three invention patents, other patents 27, "CCC" certified products 20 species. The company has always insisted on technology R & D investment, the company has received a single channel prefabricated substations, switchgear miniaturization and miniaturization of medium voltage circuit breaker product patents. And create a YBP prefabricated substation, KYN92A switchgear, ZN145 breaker, HXGN101 RMU and other brand-name products in Liaoning Province. Currently, its own brand new energy box changes the sales ranking first in Liaoning Province, KYN92A miniaturized switch sets of product sales ranked the top two.
The company's main business from equipment manufacturing and power engineering of two parts. The main production 35KV power distribution lines and equipment and substation equipment, new energy photovoltaic power generation and wind power substation, independent brand compact medium voltage switchgear equipment and rail traffic DC switchgear. After years of development, the company's products cover the China Southern Power Grid, the national grid, aerospace, military and industrial engineering. Company Shenyang Metro Line 1 and Line low voltage switchgear, ring control cabinet and DC switchgear integrated package; the State Grid Corporation of network quality enterprises, Beijing Power Supply Bureau of qualified suppliers.
Assembly manufacturing company for many years in power, now has the most advanced CNC laser machining centers, medium voltage switchgear automatic assembly, testing lines, three-dimensional repositories and logistics center, and efficient ERP program management processes, facilities are more than the advanced international level.
| | | | |
| --- | --- | --- | --- |
| No. | Device Name | Quantity | Advanced |
| 1 | CNC laser processing line | 3 | The most advanced international level |
| 2 | Medium Voltage Circuit Breaker automated assembly line | 2 | The most advanced international level |
| 3 | Medium voltage switchgear sets of automated test line | 1 | The most advanced international level |
| 4 | Dimensional repository (ERP automated material) | 1 | The most advanced international level |
| 5 | Three-dimensional sheet metal library | 1 | The most advanced level |
| 6 | Gas protection welder | Sets | The most advanced level |
More than a decade, the company always adhere to scientific and technological innovation and product upgrades as the driving force to promote enterprise development. Wherein: KYN92A compact switchgear to lead the development of innovative small domestic KYN series, became the brand-name products; ZN145 high current vacuum circuit breaker to fill the gap, to solve the high-current 4000A switchgear temperature problem; XGN101- 12 air-insulated vacuum ring network equipment, has been assessed provincial Science and Technology Bureau as "specialist special new product"; YB27FD wind power substations run from the first station to constantly upgrade innovation, absorb and digest advanced products at home and abroad basic technology and years of experience of running on to provide users with reliable and trusted products; YB27GF photovoltaic substations growth in constant innovation, has developed a comprehensive and integrated intelligent four divisions changed me, to provide users with more cost-effective products; the company is in Liaoning Province ABB's low-voltage switchgear MNS2.0 formal authorization of the partnership and gold plate factory.
"Technology to quality, quality brand-name cast." Speeding electrical always adhere to craft a fine, top quality brand-name cast, first-class credibility of the tree service, full implementation of quality management, and constantly updated technology and equipment, the use of automated production equipment, upgrade technology levels. By strengthening the quality of training and examination process to ensure product quality, to win the trust of users, expand the brand, promote enterprise development.
Speeding past and future development of electric, all customers will always depend on the support and help of friends, customers are our god speeding, we will adhere to revitalize national industry, the development of independent innovation industry as a fundamental, in order to meet national demand for electric power industry the direction for social responsibility to do for our customers to create value for the benefit of employees, contribute to the country's purpose. Carry forward the "loyalty, courage to innovate, strive for excellence, top-notch" spirit of enterprise, all the friends in the support and assistance, and constantly updated to a higher and better future ahead!
/ Enterprise Products
Shenyang speeding products divided into four series:
First series: switches and equipment

40.5kV metal armored away switchgear (KYN61);
12kV vacuum circuit breaker solid sealing ZN145, solid sealing FZN70 vacuum load switch, SF6 load switch;
12kV small armored remove metal-enclosed switchgear (KYN28, KYN92A);
12kV RMU (XGN 101, HXGN);
12kV inflatable cabinet and solid insulated switchgear (FC-SIS);
0.4kV low voltage switchgear (GGD, GCK, GCS, MNS, MNS2.0, MNS-E, GFB2);
0.4kV three boxes of products;

Second series: 12 ~ 40.5kV prefabricated substations

YB27-type 12 ~ 40.5kV Themistes prefabricated substation;
YBM 20 type 12 ~ 40.5kV Continental prefabricated substation;
YB27FD type 12 ~ 40.5kV wind special prefabricated substation;
YB27GF type 12 ~ 40.5kV PV special prefabricated substation;

Third Series: Transformers products (energy certification national product)

Oil-immersed transformers (10 ~ 35kV): S9 type, S11 type, S13 type, SH15 type (amorphous alloy);
Dry-type transformers (10kV): SCB9 type, SCB10 type, SCB11 type;

Fourth Series: Automation Control Products

Electrical equipment automation and control systems;
DC panel, AC screens and other substation equipment;
Being developed products are: DC charging pile (fast charge) equipment, 40.5kV four divisions comprehensive and integrated photovoltaic intelligent prefabricated substation;
Among them, the core products:
12kV solid seal pole circuit breaker (patent)
12kV compact metal-enclosed switchgear (patent)
40.5kV wind power dedicated box-type substation (patent)
40.5kV PV dedicated box-type substation (patent)
0.4kV drawer-type metal-enclosed switchgear (introduction of ABB technology)
40.5kV photovoltaic four divisions Substations (patent declaration)
/ Business conditions
Shenyang speeding operating performance in recent years, the following table:
| | | | | | | |
| --- | --- | --- | --- | --- | --- | --- |
| Project / Year | Sales revenue | growth rate | Equipment Manufacturing | growth rate | Engineering Income | growth rate |
| 2014 | 270 million yuan | Growth of 22.5% | 210 million yuan | Increase of 17% | 60 million yuan | Increase of 45% |
| 2015 | 340 million yuan | Growth of 25.9% | 250 million yuan | Increase of 19% | 90 million yuan | Increase of 50% |
| 2016(Expected) | 450 million yuan | Growth of 32.3% | 300 million yuan | Increase of 20% | 150 million yuan | Increase of 67% |
/ Corporate structure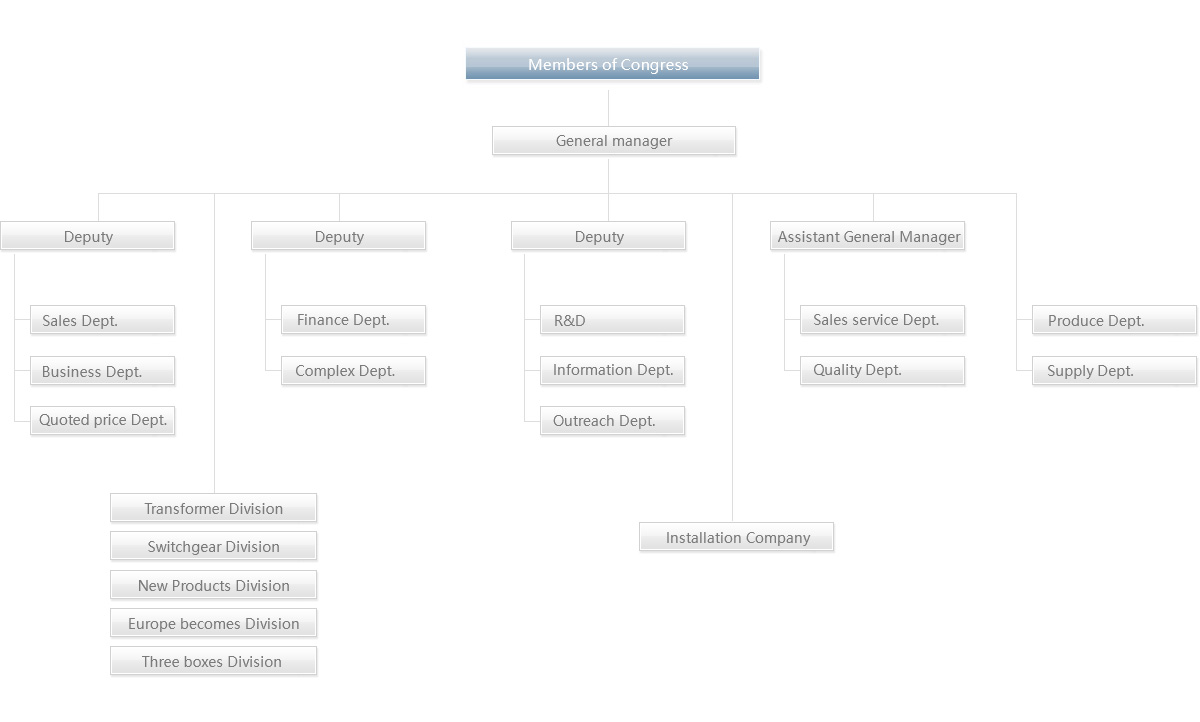 / market outlook
Major customers are speeding Shenyang State Grid Corporation, China Southern Power Grid Corporation, China Huaneng Group, China Datang Corporation, China Power Investment Corporation, China Guodian Corporation, China Huadian Corporation and other five power generation companies, and TBEA Energy in the company, Lee Teng-hui photovoltaic Technology Co., Ltd., wind power, photovoltaic power generation domestic listed companies. Products used in petrochemical, coal, metallurgy, rail transportation, ports, airports, urban complexes, industrial and mining enterprises and other areas of electricity, and the country Step - nearly 30 provinces, municipalities and autonomous regions, has a good operating performance, is emerging company with unique technology and outstanding enterprises.
/ Performance Qualification case
Shenyang Electrical Equipment Co., speeding through the "ISO9001-2008 quality system certification"; "ISO14001-2004 environmental management system certification"; "ISO28001-2011 occupational health and safety certification" "CCC national compulsory product certification"; also won " High-tech enterprises in Liaoning Province ";" Liaoning provincial enterprise technology Center ";" innovative SMEs in Liaoning Province ";" Liaoning Province famous brand ";" Liaoning Province ";" SMEs in Liaoning Province specialist special products " ; "annual outstanding contribution of private enterprises in Liaoning Province"; "AAA corporate credit rating"; "three enterprises safety standardization"; "Credible enterprise"; "growth of SMEs"; "Shenyang information technology and industrialization integration business model ";" Shenyang top ten private technology enterprises ";" Shenyang Science and Technology innovation Award ";" Shenyang safeguard the legitimate rights and interests of focal points for enterprises ";" Liaoning Province outstanding team ";" Shenyang demonstration team ";" norms Home ";" Shenyang advanced female workers organization "and many other awards. Certificate see annex.
/ Production capacity
| | | |
| --- | --- | --- |
| Main products | The monthly production capacity | Annual production capacity |
| High-voltage switchgear | 550-600 plane | 7000 |
| Low voltage cabinet | 400-450 plane | 5000 |
| Dry-type transformers (SG10, SCB10) | 120000kVA | 2.5 million kVA |
| Oil immersed transformer | 80000kVA | 5 million kVA |
| YB20 prefabricated substations (European variant) | 80-90 | 1000 |
| YB27 prefabricated substations (US variant) | 120-130 | 1500 |
| YB27FD wind power dedicated box changes | 120 | 1500 |
| YB27GF PV-specific box changes | 120 | 1500 |